Russ Reeder | Speaking Engagements & Events
Upcoming Events
Personal Democracy Forum, June 2016
---
Previous Speaking Engagements and Events
Hackers Targeting Presidential Candidates, May 2016
US intelligence says hackers that are possibly working for foreign governments are snooping on the presidential campaigns. As Greta likes to call me… "tech expert Russ Reeder goes 'On the Record' to sound off on the implications". Watch here.
Madison Vision Series at James Madison University, October 2015
It was exciting to return to my alma mater to discuss the overlap between civic engagement and technology. I encouraged students to redefine what civic engagement means in America and reminded them that we all need to work together to face the challenge and work toward a less apathetic community when it comes to civic responsibility.
I also stressed the importance of each citizen being able to make a difference in their community, "You have the right to stand up for what you believe in … but if you don't, people will stop fighting for you." It is important to remember that apathy affects all generations, and the sense of having a voice on a platform has almost vanished because of this. You can see the video here.
Fox News – On The Record, October 2015
Data security is an ever-escalating topic of importance. And with the myriad of cyber attacks from foreign hackers, it has become a serious national threat. On October 1, 2015 I discussed government data security with On The Record host Greta Van Susteren .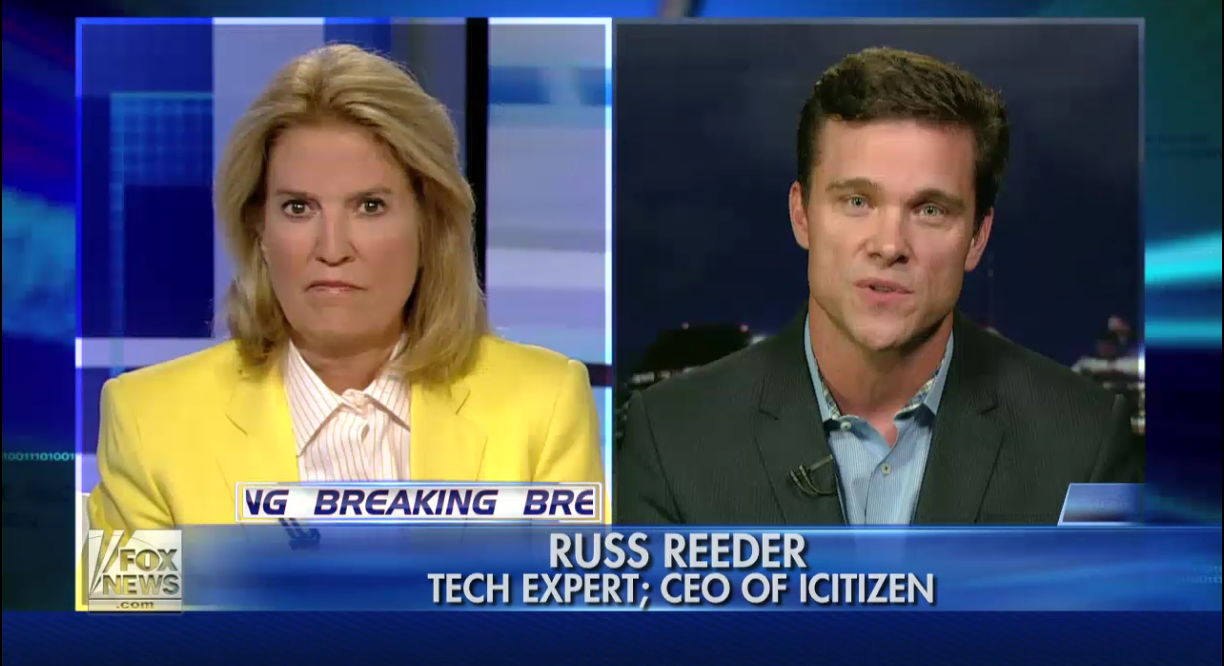 Matt Lewis & The News, August 14, 2015
Elected officials are desperate for a method to quickly and easily communicate with their constituents so that they can better do their job. However, the methods available to officials have long been broken. On this Matt Lewis podcast, we discuss why our current polling system is broken and how icitizen is the solution to that problem. Government officials need a platform to gauge their constituents' opinions and feelings in real-time, icitizen is that platform. Listen here.
National Convention of State Legislatures, August 2015
Communication implies a discussion between two or more parties. For years, elected officials have not communicated with their constituents, instead they have only marketed to them. At the National Convention of State Legislatures, I talked about how icitizen is a platform to bring communication back to our democratic process. We built icitizen for both citizens and elected officials to exchange information quickly, in real-time.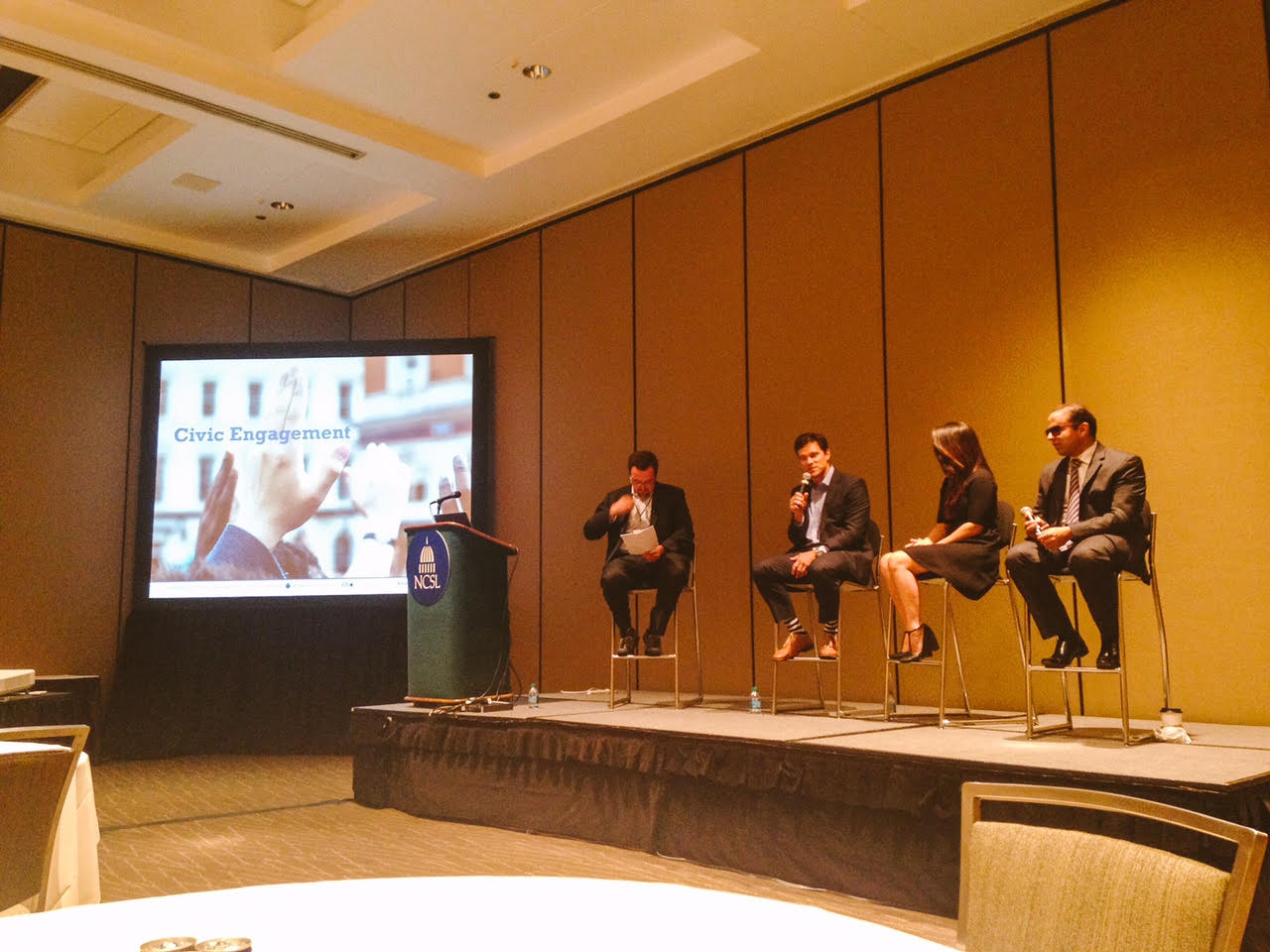 TechWeek LA 2014
Your tech company started with an idea that turned into a product, most likely built by a lean team, and now you are starting to think about scaling everything up. But… where should you start? On November 20, 2014 at TechWeek LA, I talked about some of the key factors in building your business. Check it out below.
Live Radio Interview on Business Rockstars
On July 28, 2014, I got to chat with my good friend Ken Rutkowski about entrepreneurship and leadership (My first segment starts at 1:15:28 and my second segment starts at 1:28:28, in case you don't want to watch the whole show).
(mt) + Tour de Pier 2014
In May 2014, Media Temple participated in the second annual Tour de Pier in Manhattan Beach, CA, a unique spin-a-thon fundraising event that benefits cancer charities, and helped raise over $17,000. If you want to help fight cancer and be a part of Tour de Pier, you can find more info here.
Achieving Greatness as a Team
In this video, I am addressing Media Temple's employees and talking about how, as a team, we can achieve greatness!
Parallels Summit 2013
At Parallels Summit this year, I talked about virtualization, but also how Parallels Cloud Server has enabled us to give (mt) Media Temple customers a fully scalable storage solution.

Media Temple COO Russ Reeder @ OSCON 2013
At OSCON 2013, I talked about how we, at (mt) Media Temple, have helped our customers succeed with virtualized and dedicated hosting for the last 15 years.
HostingCon 2012 – CloudFare Interview

How to Become a Strong Operational Founder
At this year's Founder Showcase event, a quarterly startup pitch event gathering top technology CEOs, investors, and seed-stage companies in Silicon Valley, I shared some tips about how to become a strong operational founder.

Money Stealing Trolls Panel @ HostingCon 2013
I had the pleasure to participate in a few panels at this year's HostingCon, including this panel about patent trolls hosted by the i2Coalition (Media Temple is one of the founding members) and moderated by Rackspace's Alan Schoenbaum.

SoCal Rugged Maniac 2012
Check out some highlights from the Media Temple's team at the 2012 SoCal Rugged Maniac competition in Temecula, CA. Sometimes, you have to get your hands dirty!